Channel Data
MidCon Products Channel Slab Characteristics
Time Proven Design
Strength
Durability
Versatility
Customized
MidCon Channel Slabs provide a dense, lightweight, fire resistant, reinforced roof slab system that offers economical and structural advantages. The channel slabs provide the ideal roof deck in areas where corrosive action is accelerated by high humidity and/or chemical fumes. The dense concrete and smooth finished surface provides the ideal roof deck in moist environments. Installed roof slabs result in an attractive, low maintenance ceiling, requiring no additional finishing. Epoxy sealers can be factory applied. Contact MidCon Products Inc. for recommendations.
Advantages
At 1/3 less weight than regular concrete, the savings in dead load reduce the size of the supporting members as well as the final costs.
Strength & Durability
5,000 psi concrete at 28 days provides for a dense, durable concrete member. The simple design of the channel slab offers an exceptionally strong, and non-combustible permanent deck.
Easy to Handle
Hoisting bundles to the roof requires the only need for heavy equipment. Each plank can then easily be installed by hand.
Channel Slab Typical Layout Detail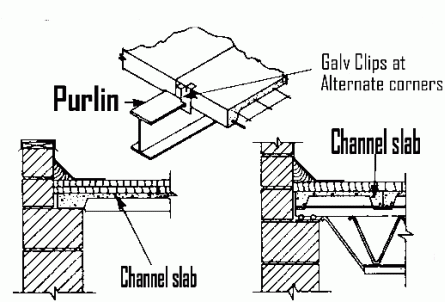 Channel Slab Typical Layout Detail