Metal Edge Data
MidCon's Metal-Edge Tongue & Groove Plank is a lightweight versatile precast concrete plank with a wide variety of applications in commercial, industrial, and institutional roof and floor systems.

Metal Edge Characteristics
Size: 2"x1'-6"x10'-0"
Weight: 12 PSF
Lightweight
The Realite concrete mix used in the plank manufacturing process produces a lightweight, economical product with beneficial acoustical and insulating qualities.
Versatile
The plank is produced in a standardized 10 foot length and may be cut at the jobsite, eliminating the need for shop drawings.
Easy to Install
The uniform dimensions and the tongue and groove design, combined with the lightweight characteristics of the plank, enable easy handling and quick installation on steel, concrete or wood frames. Attachment may be made by using clips, self-drilling screws, or by welding to structural supports. Installation is possible in all types of weather.
Fire Resistant
The plank has been approved for 5 U.L. fire-rated designs: Roof-Ceiling Design Numbers P213, P245, and P501, Floor Designs G516 and G230.
Attractive
The light-gray, textured surface and the galvanized metal edging results in an attractive, finished ceiling which requires no additional interior work. If desired, the plank may be painted.
Nailable
The plank is nailable and provides a suitable substrate for shingles and clay tiles on pitched or mansard roofs. Contact MidCon's technical staff for attachment recommendations.
Special Environmental Conditions
Manufactured with galvanized reinforcing mesh and cold-rolled galvanized metal edging, the plank is well-suited for areas where special environmental conditions exists. For exceptionally difficult environments, stainless steel metal edging and/or a high density concrete mix can be used. Contact the manufacturer for applications under such conditions.
Floor System
MidCon's Metal-Edge Plank is ideal for retrofit work, mezzanines, and new floors within existing structures. It provides an instant concrete walkway when used in interstitial floors or catwalk systems.
Diaphragm Action
The 2" metal-Edge Plank can be used to transfer diaphragm loads into a structural steel building frame. The fillet weld used to attach the metal edge has been load tested and has an average failing load of 1550 pounds per inch. With a load factor of 1.65 the safe load capacity of the fillet weld is 939 pounds per inch. The loads are transferred into the frame by welding the tongue and groove edge to the support structure at the points where they meet.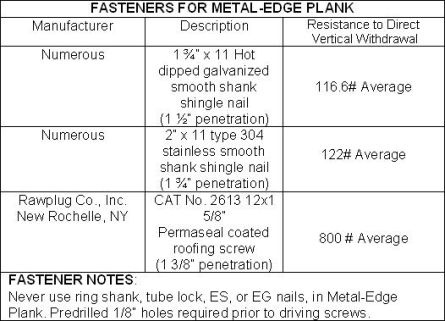 Fastener Details